Build up
The build up to the race went better than expected. I avoided any serious injuries and managed a half marathon PB in my block of training. I used many races as part of my runs to help break up the long runs. With the help of the St Catherine's members doing the marathon we put in some excellent and tough long runs. These gave me the confidence I needed and for the very 1st time I managed to get a 21 mile run in as part of the block of training. Thanks to Brendan, Keith, Pat and Ted who joined me on those long runs. My goal was set at 3:30, I felt I could achieve this.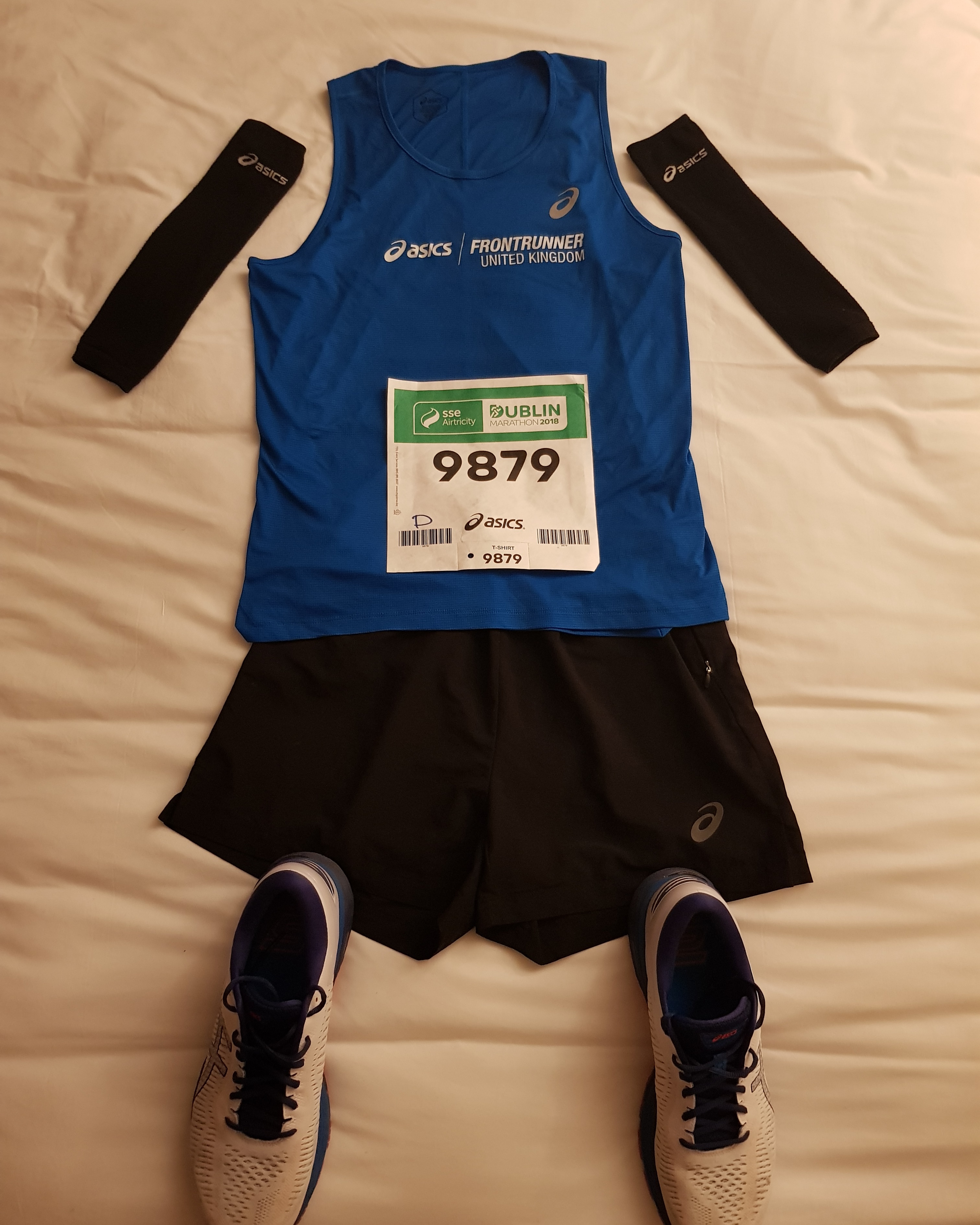 Race weekend
The weekend started with a wedding in Cork on the Friday. My alarm was set for 5am on Saturday where I set off on the drive to Poolbeg parkrun. The weekend was not just about the marathon but the ASICS Frontrunner team were having our meet up. We would be racing, pacing or cheering on at parkrun but plenty of other activities throughout the weekend. I got up there in time and managed to get in a couple of photos on the beach before everyone came along. It was great to see everyone and catch up, some team members I hadn't met before so it was a good way to get to know more about each member. We see each other everyday on social media and we probably know more about each other than some of our friends but you can't beat a face to face meet up and hear some stories, get advice and get to know each other even more. I was cheering on and it was great to see so many of the team have top performances as well as pace excellently and a few PBs in there as well.
Once that was done it was time to get some photos in before heading back to the hotel to get ready for the expo. I found myself on stage with Holly, Lauren and Kerry. I nervously answered a few questions. Time then to collect my number and meet up with Damian and a few club mates.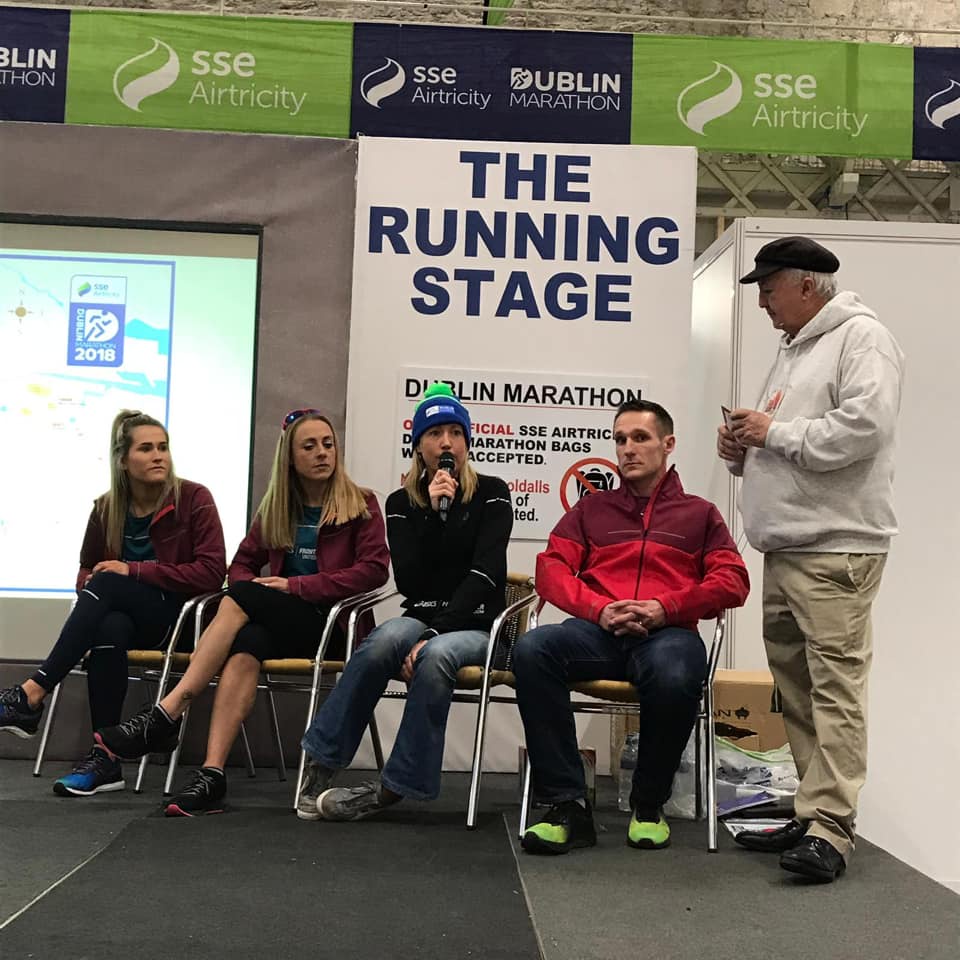 We headed out that evening then to the Irish Whiskey Museum, I learned a lot from it, some history that I didn't know that I feel I should have know but of course I was never going to have the tasting but it was good to watch everyone's faces as they tried it out. Food and awards followed before I jumped in a taxi home, of course I was going to have an early night big day tomorrow.
Race day
The extra hour in bed made no difference to me as I was up nice and early. The excitement was starting to hit but no nerves. Went down and met the team and had breakfast. Porridge, toast, egg and a bowl of Coco Pops was the perfect combo. We had a taxi booked for 8:15 so we didn't have the extra few miles, anything to save the legs. The weather was perfect. There was a worry it would be extra cold and I brought layers just in case but in the end I only needed arm warmers. We got a quick snap, dropped off our bags and then Peter, Holly and myself made our way right to the front of the wave. Sarah, Becca and Lotta stayed further back. We were being brave standing on the line, now just to control ourselves. I had decided I'd go for 3:25, this would give me a buffer if I needed it.
Off we go
The countdown was almost at zero and then bang, its time to go. I sprinted off like I was doing a 100 meter race, but once I got around the corner I calmed down and decided it was a good time to get into the correct pace. Holly caught up with me and I could only laugh as she was wondering what was chancing us as we went off so fast.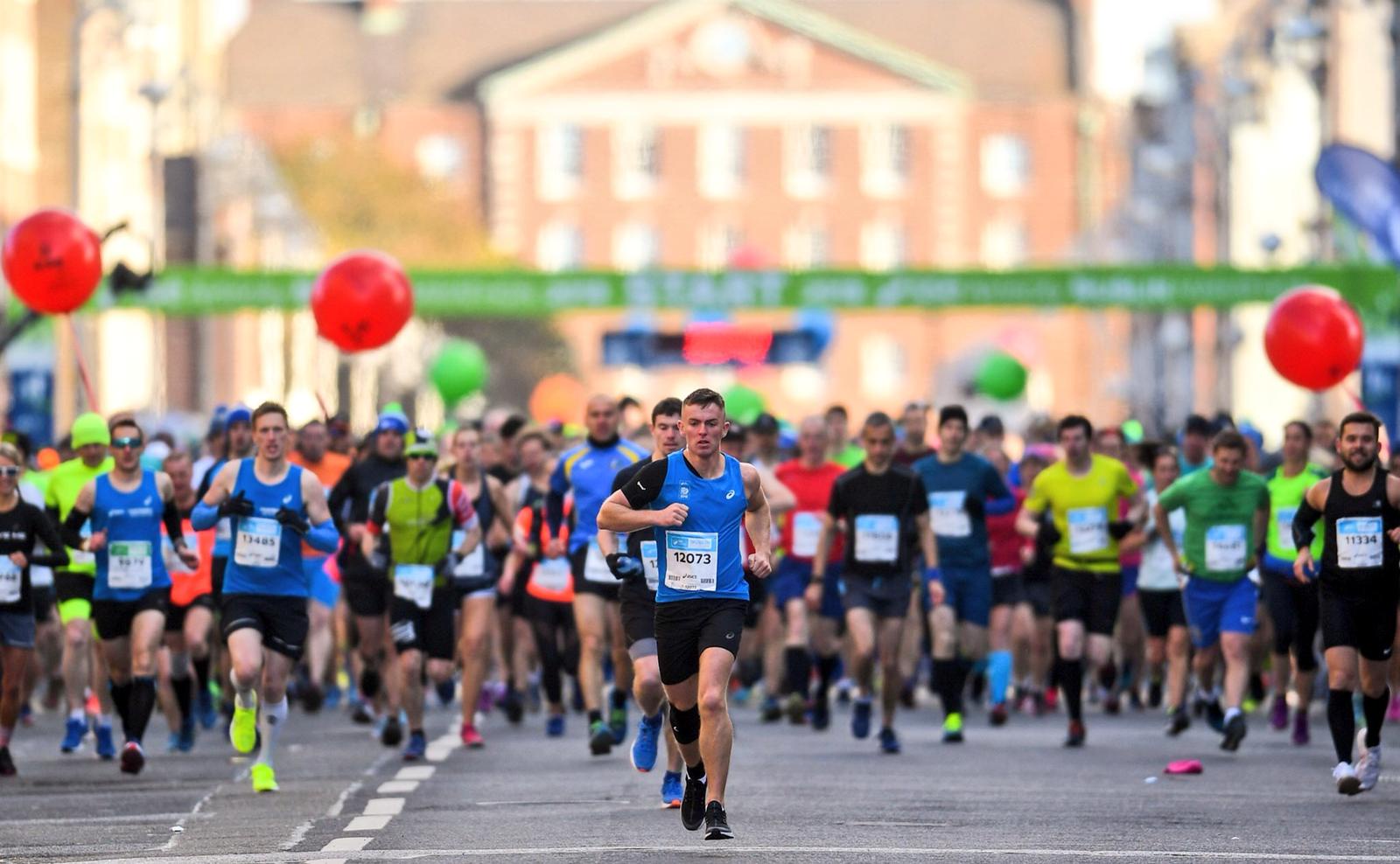 Since we were in the 3rd wave it was extra important to be up the front. It was a strange feeling having open roads in front of us as we went through the 1st few miles. We would meet some of the runners from the 1st two waves but overall we had plenty of space to get into a proper rhythm. Holly had decided she would pace me around, with the crowds behind it would be impossible to meet others on the course, so looks like I was stuck with her for 26.2 miles. Going through the course it brought back memories of 2 years ago and flashbacks to parts I could remember. The 1st 5 miles flew by, 7:39, 7:43, 7:44; 7:41 & 7:41. You are into Phoenix Park at this point and you hit some big pockets of supporters. It was getting noticeably busier alright but with a long straight ahead of us in the park it was easy to find space. It was going through the gate at the end and back on to tight roads was when things started to tighten up a bit and it wasn't long until we started to hit the large pack of runners from the 2nd wave. As you come back into the park it has a lot of twists and turns and the crowds got even bigger.
The never ending drag with some downhill for a break
The next 5 miles (6 to 10) looked like 7:42, 7:47, 7:31, 7:40 & 7:39. I remember thinking at mile 6, "damn I have 20 miles to go, how am I going to do that". I needed to get that out of my head and break it back down. There was huge support by Chapelizod and that definitely got the hairs standing up as I knew what was coming next after the Rock 'N' Roll half had this as its last few miles. In this section Holly had to inspect the portaloos a couple of times but she came sprinting back, no such thing as slowly catching back up. We met some great characters as we moved through the crowd here, Holly took the chance to take out the gopro and ask them a few questions. We had a guy in full army clothing, 2 guys dressed up as a rowing boat running together, Jerry who is one of Corks most recognisable athletes and top wheelchair athlete, Sonic made an appearance as well along the way. What faced us next was pretty much a long drag through half way. It was great to see Sarah R and Alechia at about mile 12 for a bit of support, the crowds are huge but its always good when its someone you know. Miles 11 to 15 were 7:45, 7:43; 7:49; 7:48 & 7:45. I passed through half way in 1:41:50, that was a whole 10 minutes faster than I did 2 years ago. I was feeling good through 15 miles but the race was only getting started then. Mile 16 to 20 looked like 7:40; 7:45; 7:45; 7:42; 7:41. I was really surprised with my consistency here. It certainly didn't feel like it but I was knocking out some steady miles. But after this is where the marathon really begins, it is the time where people start to slow down
The miles started to get hard, almost as hard as the Jelly Beans
Miles 21 to 26 were 7:44; 7:46; 7:39; 7:33; 7:52; 8:00. This is where things started to get tough and if I was on my own I'd have so easily have given up or dropped off the pace. I felt a bit light headed at around mile 21 so I asked Holly to grab me jellys next time she saw someone giving them out. And she did, I grabbed them, threw them in my mouth and was expecting some soft haribo but instead they were rock solid jelly beans. My back tooth didn't agree with them and next thing I know I'm chewing on bits of my tooth. I had somehow cracked my tooth on a sweet – I couldn't make it up if I tried,  now I am down the majority of a tooth. Hollys response to it was – you are lighter now so you can run faster. Good advice.  So I had to forget about the tooth and continue on, but I was starting to struggle to stay focused now. My legs were getting tired, my head was saying you are done and I wanted to slow down. This is where Holly really offered the best advice and support. We took it one mile at a time and she ran in front and I had to keep up. It could have been so easy to just say no but I had to dig deep and say I can do this. I knew we had a good downhill and flat finish so I just needed to get to there. When I look at my mile splits now I see I wasn't struggling physically and I was tipping away at a good pace. But just before mile 25 was where I was looking forward to all day. The ASICS Frontrunner cheer zone was located here. You could hear them from far down the road. What a bunch of legends. Cheering & motivating people a lot longer than I was running the marathon. The good vibes as I ran through gave me the much needed energy, you could really tell they were enjoying it.    Looking at mile 26 will annoy me though, just because every other mile was below 8 minutes but as you can see I did lose some time over the last couple of miles but I'm not going to complain too much about that.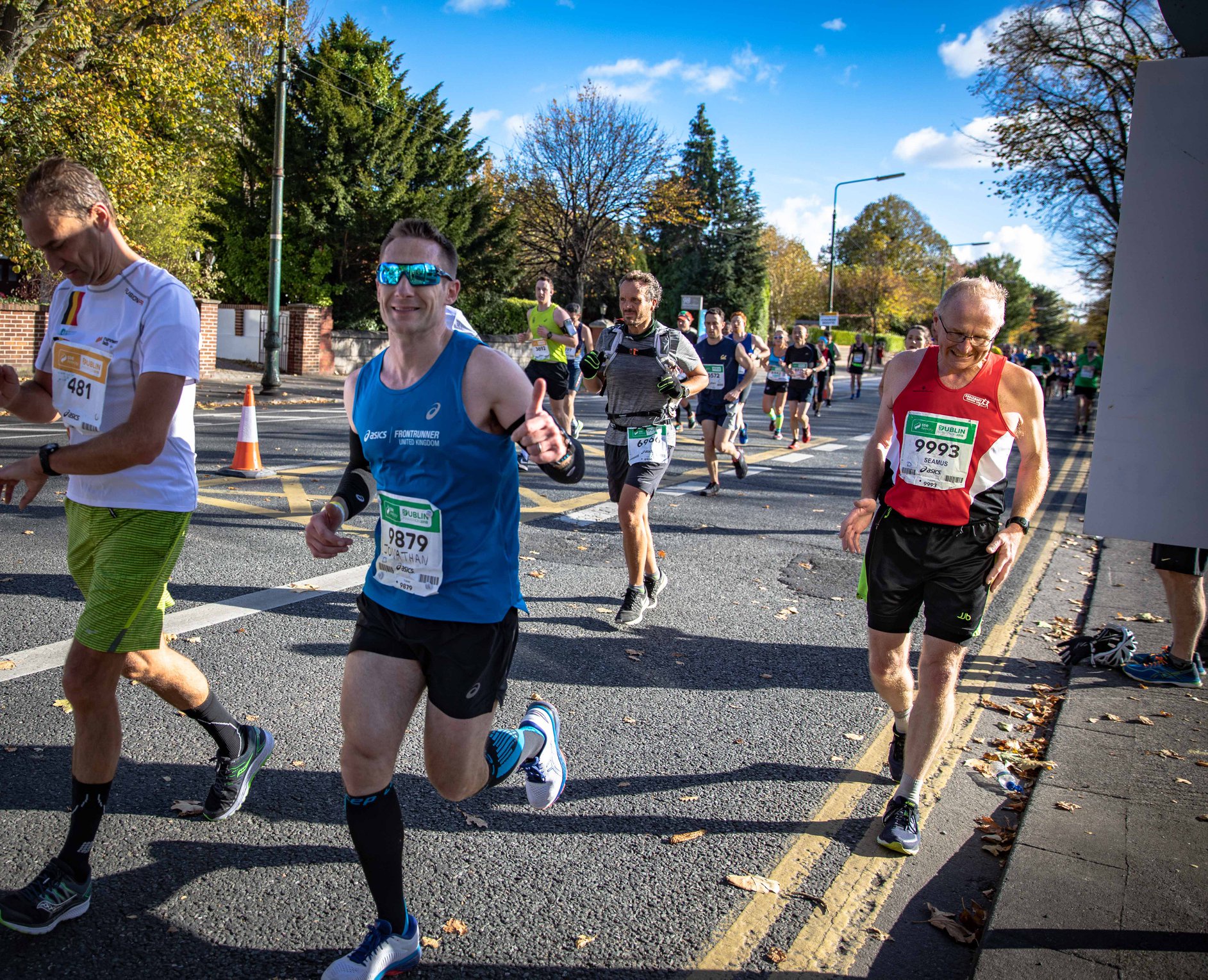 And the shuffle to the line
The last few 100 meters felt like they would never end. The crowds on either side were huge but I was just looking ahead at the finish line. Holly kept encouraging me right up to the line.  It worked and I crossed the line with a massive PB finishing in 3:23:26. A hug for Holly for getting me the PB, picked up my medal and then got my phone out and powered it on as I wanted to check how everyone got on. My phone started alerting with everyone I was tracking and some amazing results there.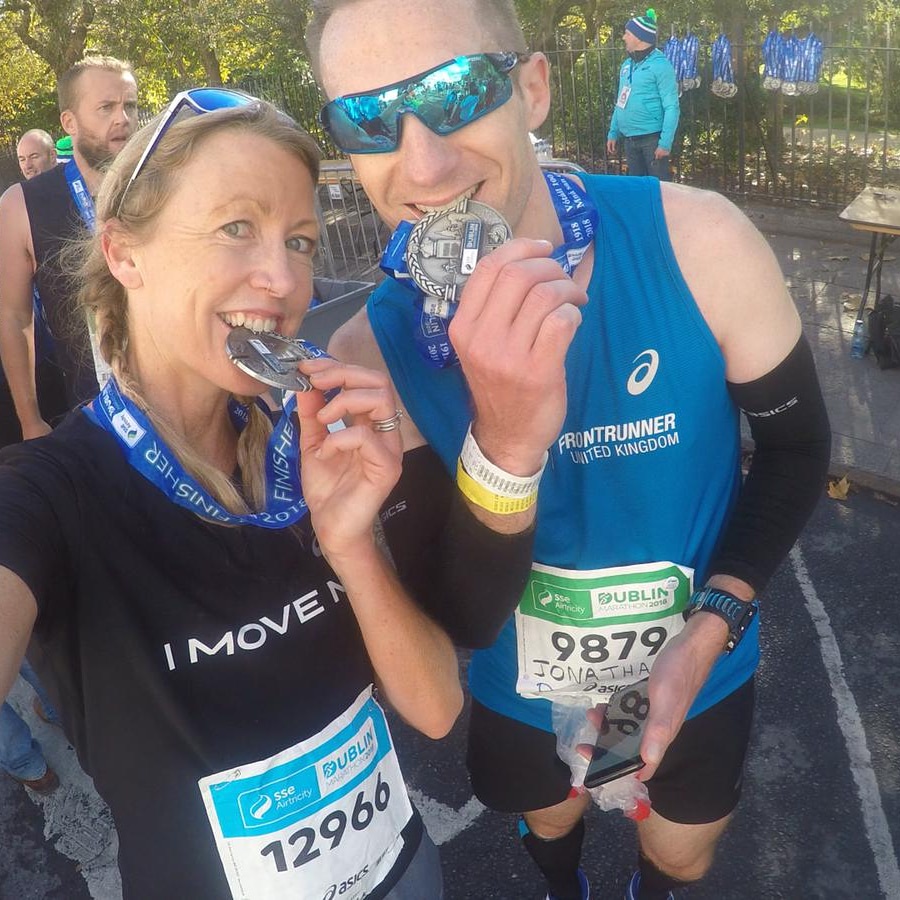 Thanks
There are so many people to thank:
Martha for giving me the time to put in the long runs, the short runs and the races, which meant I was out of the house a lot. It isn't easy with a 2 year old and she sacrificed plenty of mornings and evening so I could train to get the target I wanted.
St Catherine's members for the training. From speed work to long runs it always helps to have a good team around you.
Damian for all the advice on the build up to it and for years of encouragement. He helped me break 4 hours 2 years ago and he smashed through the 3 hour barrier this year.
ASICS Frontrunner team for keeping me relaxed on the build up to the race right up to when the gun went off. They offered great advice and gave me the confidence on the day and the work they put in at the cheer zone was appreciated by all.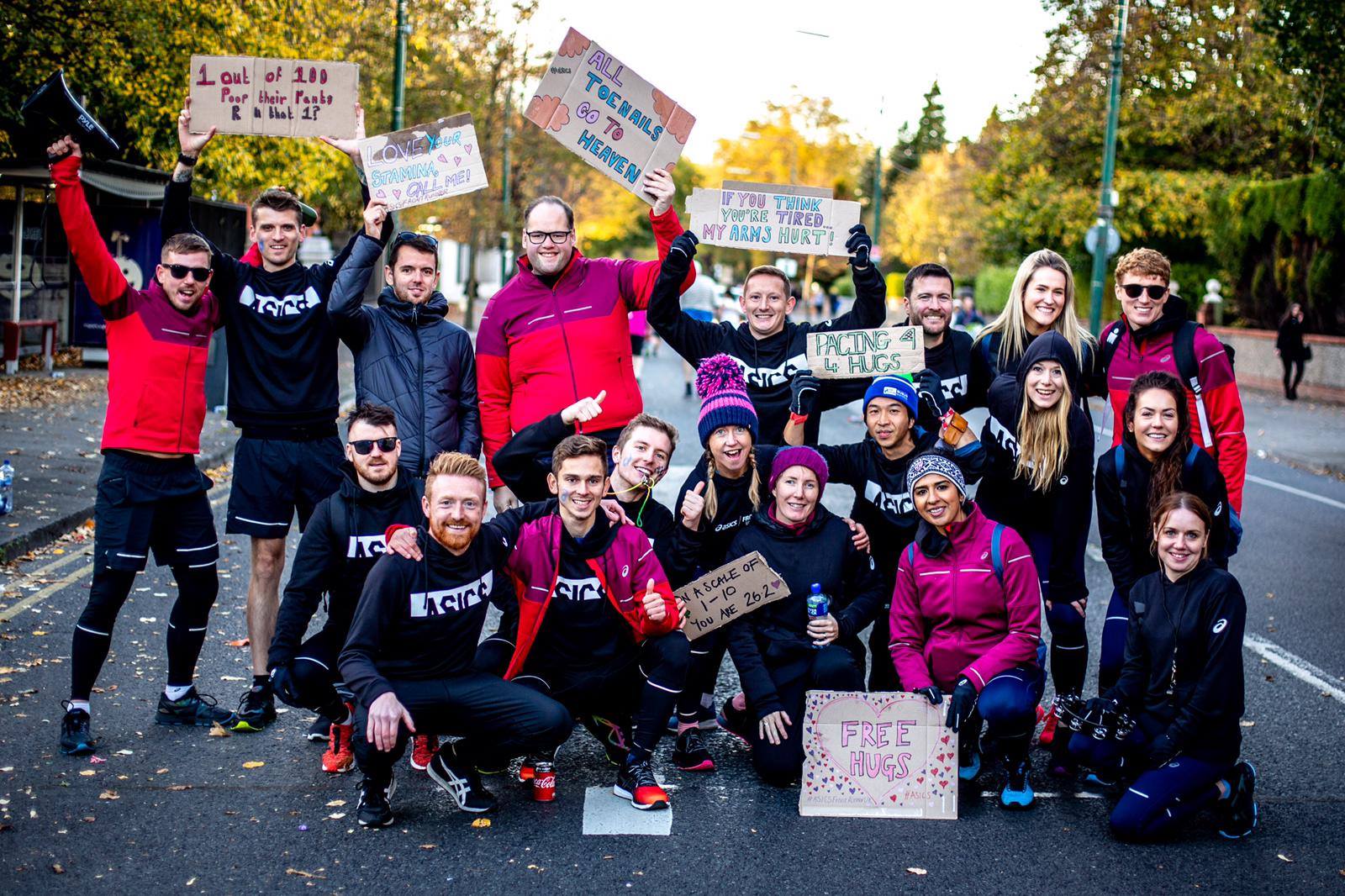 Gazz & Holly for giving me the opportunity to be part of the frontrunner team and to run the race with ASICS and have the best kit for it. I hadn't planned on doing it until they provided us with the chance. And then a huge thank you to Holly for her help on the day. I definitely would not have been able to do it on the day without her. Maybe up to 21 miles I'd have been ok but I would have fallen away after that but for the advice and encouragement she provided. It was really enjoyable to run with such a great runner who made things look effortless. No doubt everyone will want her as a pacer now. You can thank me later Holly.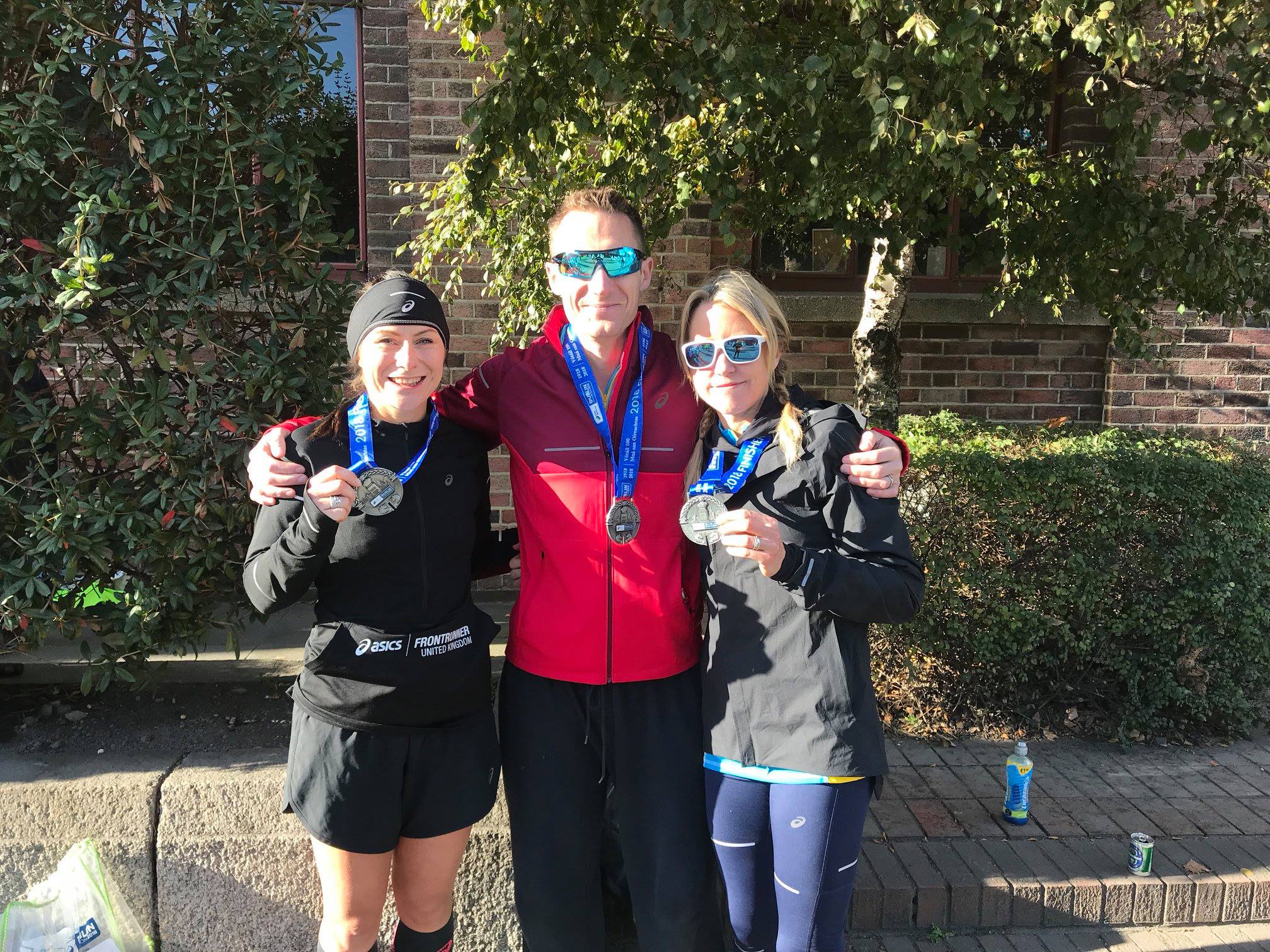 After
After relaxing with a hot chocolate it was back to the hotel for some downtime. I do regret not joining the team at the cheerzone. You can check out the fun they were having here. That evening we all went out as a team for burgers and some celebration drinks (water for me). My burger was gone in seconds. Some went the extra mile and went out in fancy dress. My evening was about to end early after a long day but a call from Damian meant I was back out to meet him.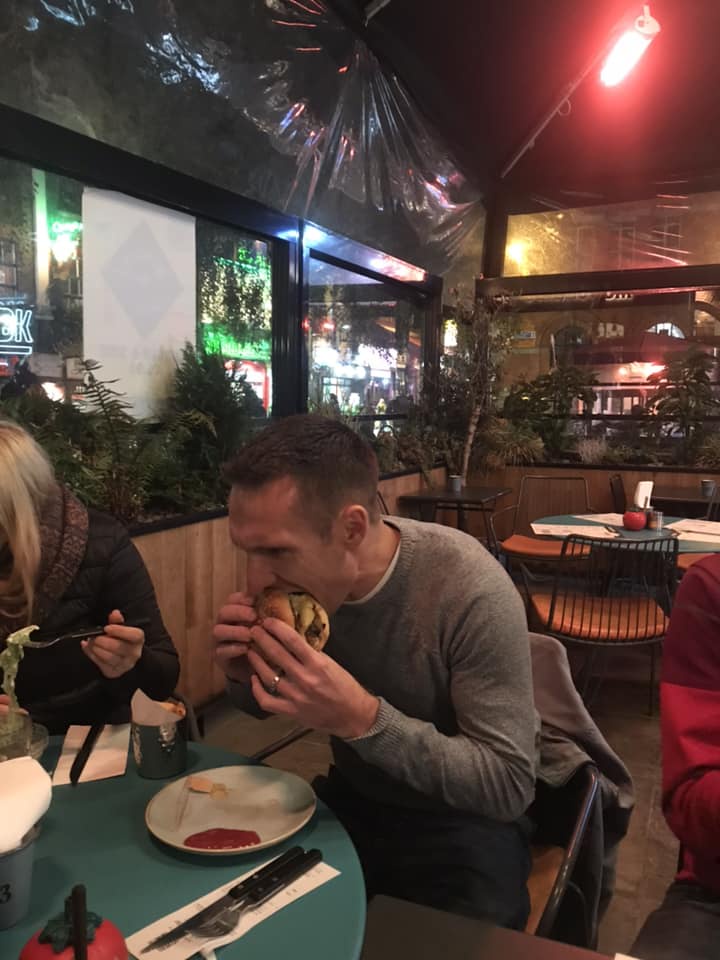 Overall
What can I say, this weekend went perfect. The race was the icing on the cake. The frontrunner weekend really helped relax me before my 'A' race and I'd like to thank the frontrunner team for everything. I really can't wait for the next meet up. I'd definitely advice people to get out and do Dublin next year. The support was exceptional, the organisation was perfect and the course it tough but fair. To have over 16,000 finishers and have it run so smooth shows you how well this race is run and no wonder it continues to sell out and is a must do race. Well done to everyone who took part in the marathon, park run and cheered everyone on. Each of your deserve to the celebrations. Some amazing results out there.
What next
It is time now to relax and use Vegas half marathon as a fun day out. I don't see myself racing for the rest of the year and come back fresh next year for more big challenges.
Photography – Carel Du Plessis CDP Photography Ltd & Jack Schofield Stage 7 Photography